Update on April 6, 2021 at 3:10PM PT:
Today, we are continuing our global expansion of COVID-19 vaccine profile frames on Facebook. We're working with UNICEF to launch the frames in eight new countries: Bangladesh, Brazil, Chile, India, Indonesia, Nigeria, Philippines and Ukraine. We will continue to launch in more countries in the coming weeks and months.
"The faster we can get eligible people vaccinated against COVID-19, the sooner we can protect our health services, save lives and come back together. All of that starts with building trust in vaccines. One of the best ways to convince people that the vaccines are safe is to show them people they know and trust expressing relief, joy and hope at safely getting vaccinated, and Facebook frames are an excellent tool for sharing this social proof. This is why we are pleased that Facebook is taking this initiative to help get the word out in communities all over the world about the safety and effectiveness of COVID-19 vaccines."

-Charlotte Petri Gornitzka, UNICEF Deputy Executive Director for Partnerships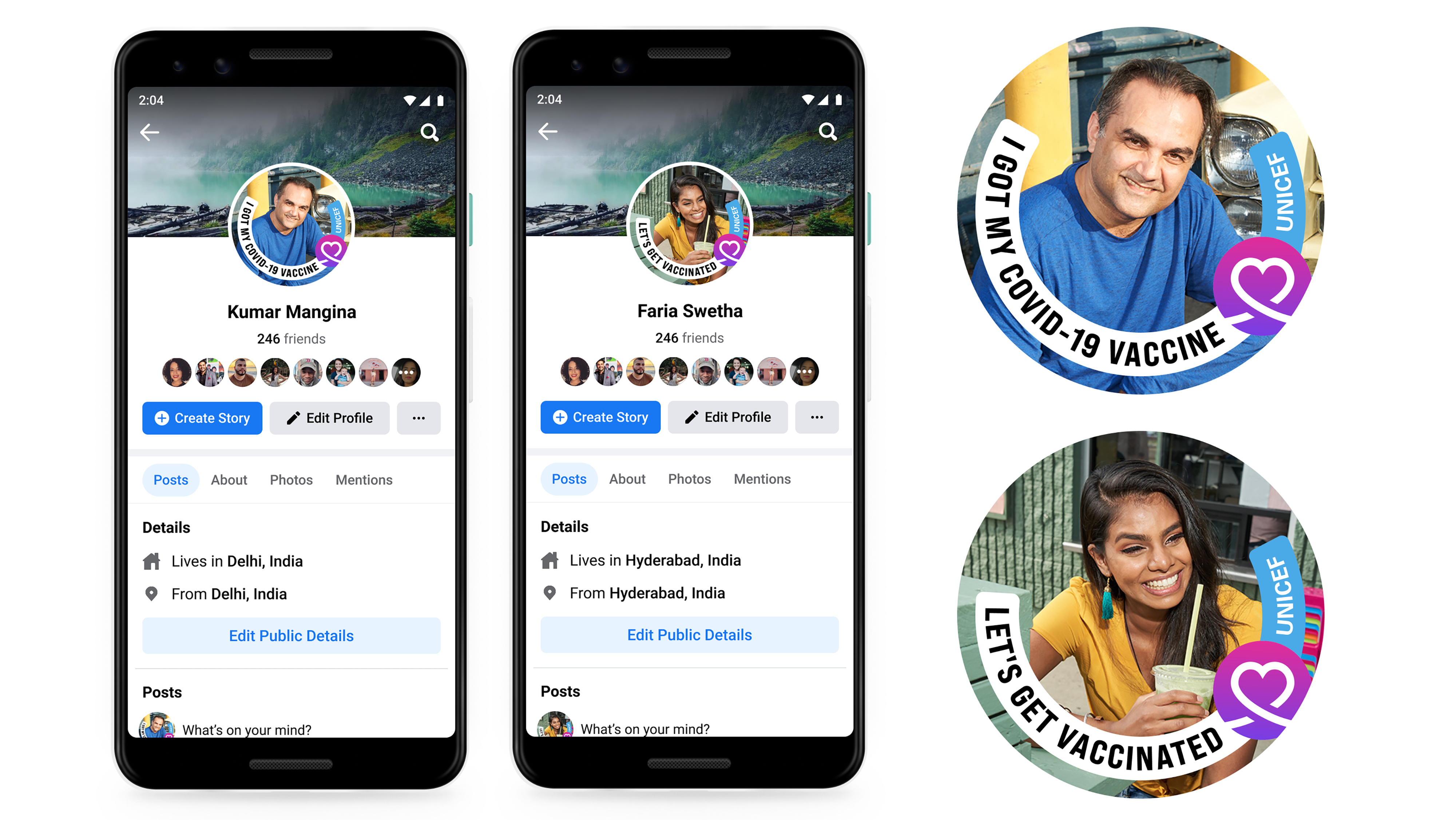 Originally published on April 1, 2021 at 4:00AM PT:
Research shows that social norms can have a major impact on people's attitudes and behaviors when it comes to their health. We know people are more likely to get a vaccine when they see many people they trust are doing it.
Today, we're launching new COVID-19 vaccine profile frames on Facebook that we developed in collaboration with the US Department of Health and Human Services (HHS) and Centers for Disease Control and Prevention (CDC). The new frames will let you share your support for COVID-19 vaccines and see that others you respect and care about are doing the same. In the coming weeks, we'll show you a summary in your News Feed of your friends, family members and people you follow who are using the COVID-19 vaccine profile frames.
This slideshow requires JavaScript.

Arianna Huffington is one of many public figures we're partnering with to spread the word about COVID-19 vaccines.
This follows our recent profile frame launch in the UK in partnership with National Health Services (NHS). In just a few weeks, a quarter of people on Facebook in the UK have already seen a friend or family member use the NHS COVID-19 vaccine profile frame. 
By working closely with national and global health authorities and using our scale to reach people quickly, we're doing our part to help people get credible information, get vaccinated and encourage others to do the same so we can come back together safely.